On Sunday 5 September 2021 in Rivarolo Canavese six pizza chefs from the Pala Pizza Association won the Guinness World Record for the longest pizza in shovel in the world: 38 meters of cooked and stuffed pizza. The oven that helped them in the enterprise is our Synthesis 12/80 Electric, a concentrate of power and resistance. L'Asso Pala Pizza, the association for the promotion of pizza in pala, was born in Rivarolo Canavese from the passion of six renowned pizza and white art professionals: Davide Civitiello, Viviana Falciano, Alessandra Fontana, Luca Montersino, Massimiliano Simeone and Alessandro Raffi.
The test was long and exhausting: two days and one night to prepare and organize the ingredients, knead, spread, cook from raw, stuff and finally move on to the final cooking! Together with the pizza chefs, a large team of volunteers and carpenters proved to be indispensable for the success of the business.
The process was ingenious. The Synthesis tunnel kiln was positioned between two wooden boards of 40 meters each. As it was rolled out, the pizza in shovel was passed into the oven for a first cooking and gently rolled onto the wooden table. There were many moments in which the staff feared breaking the dough, but thanks to everyone's help, the gastronomic work remained unharmed. Once the pizza was seasoned, the Zanolli staff reversed the direction of travel of the oven's sliding net, so that the stuffed pizza could move on to the final cooking phase.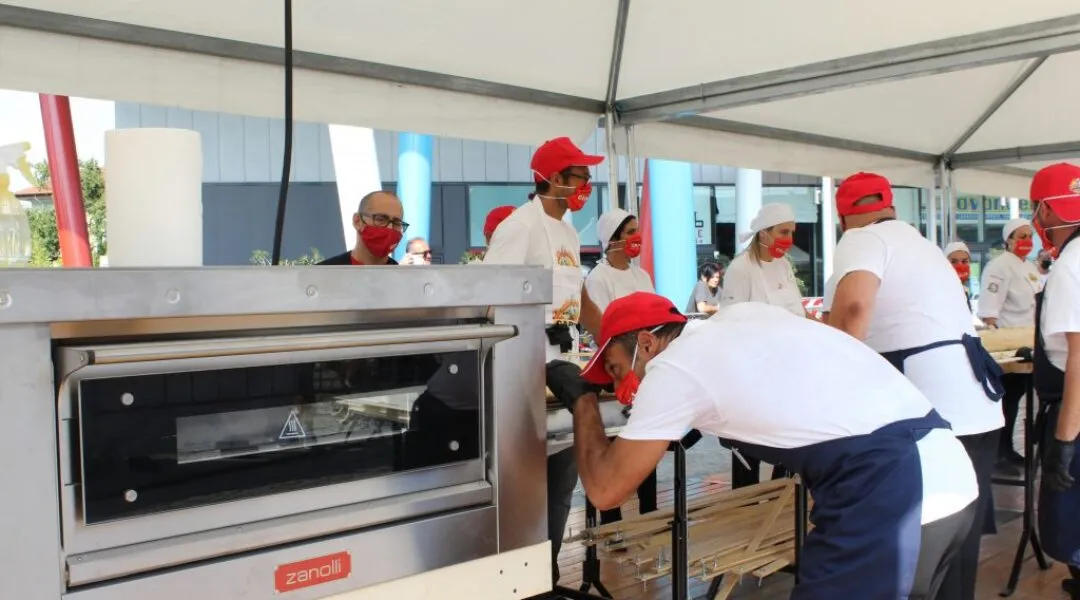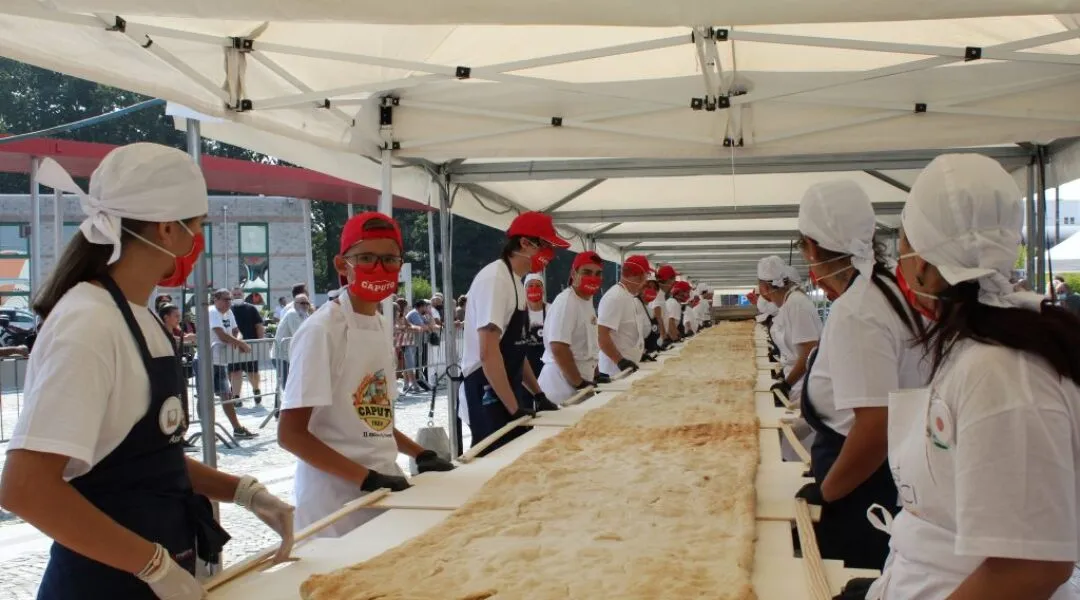 After moments of general fervor, the Guinness Accredited Judge confirmed the record: over 38 meters of pizza in shovel, 50 centimeters wide. To beat the record, 30 would have been enough. Once the feat was completed, it was time for the celebrations and tasting. Among the enthusiasm of the pizza chefs, Massimiliano Simeone states: "We had been organizing the event for a year and a half, it was a tiring undertaking but we are delighted […] it was a team game and the credit goes to everyone, not only to the staff but also to the suppliers, from the producers of the ingredients to those of the tools such as the Zanolli boards and the oven […] we are ready to face those who want to challenge us, we will not leave our record so easily. " For us who have always been committed to these extraordinary and visionary initiatives, this Guinness was further confirmation that we had the right intuition when, already in the 1980s, we decided to be the pioneers of the tunnel oven in Italy.